Axe Throwing Trailers
for Rent
Click to view our Mobile Axe Throwing Trailer that is available to rent!
SIO Escape Games provides a Mobile Axe Throwing Trailer Rental service to the Tulsa, Oklahoma area! We bring Axe Throwing to you!
We deliver Mobile Axe Throwing Trailers all over Oklahoma & Arkansas, but Distance Fees may apply for our time and fuel!
CLICK THE MOBILE AXE THROWING TRAILER FOR MORE INFORMATION, PICTURES, & PRICING!
Professional delivery to
Bartlesville, OK, Bentonville, AR, Bixby, OK, Broken Arrow, OK, Claremore, OK, Fayetteville, AR, Fort Smith, AR, Jenks, OK, McAlester, OK, Muskogee, OK, Norman, OK, Oklahoma City, OK, Owasso, OK, Pryor, OK, Rogers, AR, Springdale, AR, Stillwater, OK, Tahlequah, OK, Tulsa, OK
and surrounding areas. Please submit a quote or contact us to be sure we service your area.
What is a Mobile Axe ThrowingTrailer?
Looking for a fun event but don't want to fight the traffic? Let us bring axe throwing to you. Whether you're looking for a unique team building event, an exceptional family outing, a wild adventure with your crew, or are in dire need of blowing off steam, axe throwing offers a fun and exciting diversion that brings the party to you.
Why mobile axe throwing? It's fun! Over the years, axe throwing has developed into an event requiring precision and skill adopted by cultures across the globe, with competitors lining up to go against each other and prove their mettle.
SIO Axe Throwing offers the opportunity to channel your inner lumberjack by bringing our mobile axe throwing service to you. We have an experienced team of talented instructors to guide you every step of the way and introduce you to a number of fun axe-throwing games suitable for every skill level. Even those who've never held an axe before will find themselves hitting targets within minutes.
Best of all, the entire operation is 100% safe. Not only will our instructors show you how to throw with precision and control, but our mobile axe throwing service is specifically designed with your safety in mind. We'll bring all of the equipment to your event and safely set it up for an unforgettable outing.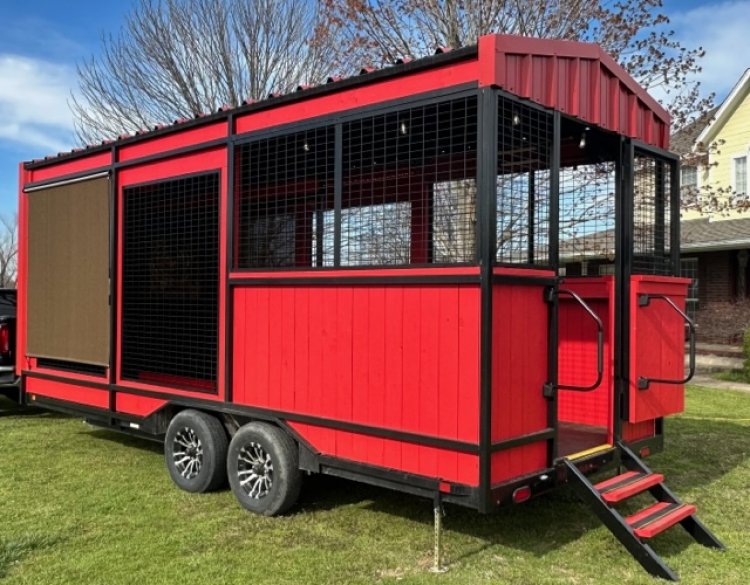 Axe Throwing Trailer
from $500.00